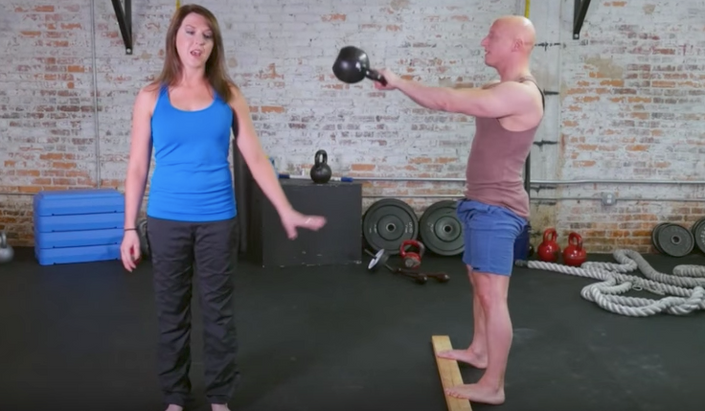 Comprehensive Kettlebell Course
The only self-paced online training that shows you how to lift and teach kettlebells… PLUS design tummy-trimming, booty-building, life changing workouts!
Get Started Now!
Trying to guide your students through kettlebell workouts but not getting the results you hoped?

You already know that kettlebells offer one of the most efficient workouts around.
But you want to make sure your students are using proper form, avoiding injury, and completing their workouts without getting banged up or bruised.
You want the people you train to make progress and happily sign on for more sessions, so you can earn a real living doing something you love.
And if you're going to do this kettlebell thing, you definitely want to be seen as an expert who's known for helping students get massive gains with minimal risk.
Sound like your story, Fitness Pro?
Then you've landed in the right place.
---

Introducing the:
Comprehensive Kettlebell Course
The ONLY self-paced online kettlebell training that shows you how to effectively lift and teach kettlebells...
PLUS design your own kettlebell workouts.
---
I'm Delaine Ross, StrongFirst Senior Kettlebell Instructor, and one of only 6 women with this title in the ENTIRE WORLD.
I created this course to give you a full kettlebell education that you can complete at home, by watching short videos & practicing what you learn - without the huge time and money investment that comes with in-person programs.
This course is special because it goes beyond what you'll find in any manual or standard teaching. I'm bringing over 12 years of my experience to provide you a nuanced kettlebell curriculum, in an easy-to-follow, online format.
It's the next best thing to a full certification.
---
What you'll learn in the 3 core parts of the Comprehensive Kettlebell Course:
PART I: The Swing & The Get-Up
We get started with the two foundation exercises in your kettlebell training. Once you've mastered these, you've got a solid base to build to the next level.
PART II: The Clean, Press, Squat, & Snatch
These four exercises round out your kettlebell education and give you the variation you need to make workouts more interesting and impactful for your students.
PART III: Designing Your Own Program + Done-For-You Programs
Learn how to put together your own kettlebell trainings for your students. Or, if you want something speedier, use one of the done-for-you programs I provide. Either way, you'll be seen as a true expert.
---
Whether you've barely dabbled in kettlebells or completed a full certification, this course will help you fast-track your skills, safely teach others, and learn to design your own workouts...
so you can be seen as a TRUE EXPERT in your field who gets your students the results they sign on for!
---
"I love this course! Delaine breaks down each movement clearly and provides effective drills for common problems. This course was easy to follow, and I learned great cues that can be implemented immediately with my students. I would highly recommend this course for any trainer looking to build their knowledge about kettlebell training. Thank you Delaine!"
-Kathryn M.
---
What's included:

38 bite-sized training videos that walk you through performing and teaching the 6 fundamental kettlebell exercises - the ones you'll be tested on in a full 3-day kettlebell certification.
Detailed visual guidance around using proper form and tips for correcting common mistakes to help your students see results and keep them injury-free. No more wondering what to say or how to get their bodies moving in the right way.
Instructions to create your own kettlebell program, so you can customize workouts for your students.
PLUS 6 done-for-you kettlebell workouts so you can start teaching ASAP.
Your Instructor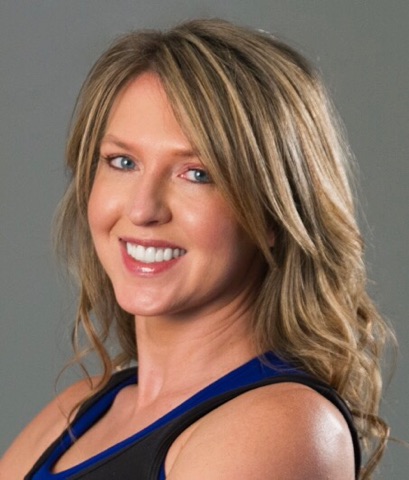 Delaine Ross fell in love with kettlebell training over 12 years ago. She received her Russian Kettlebell Certification in 2006 and her Level 2 Kettlebell certification in June 2008.
In March 2010 she was promoted to Team Leader by Chief Instructor (and the man credited with bringing kettlebells back to America), Pavel Tsatsouline. When Pavel created his own certification in 2012, StrongFirst, she accepted a Senior Instructor position.
In 2007, Delaine opened Condition Kettlebell Gym in Atlanta, GA and after successfully running it for 8 years refocused her attention to coaching trainers on how to properly execute and teach kettlebells to their own students - ensuring their safety while receiving the maximum benefits from their training sessions.
Delaine is obsessed with 90's hip-hop, pink Chuck Taylors, and travel to tropical locales like Costa Rica - where she's taught in-person kettlebell workshops. She is also on the National Expansion Team for The Phoenix, a non-profit that provides free fitness programming for those in recovery from substance abuse disorder.
Frequently Asked Questions
How do I know if this course is right for me?
The Comprehensive Kettlebell Course is designed for fitness trainers who want to learn the right way to lift and teach kettlebells, plus understand the mechanics behind the moves. It's for you if you want to prepare for a kettlebell certification, enhance your skills, and/or learn to correct common mistakes your students might be making. It's not meant for people who just want to "get in a good workout" or who aren't serious about going deep on form and teaching.
How long do I have access to the course?
How does lifetime access sound? After enrolling, you have unlimited access to this course for as long as you like - across any and all devices you own.
How long will it take me to complete the course?
The course includes 2 hours of videos (broken down into short, manageable trainings), and is designed to include practice after each video. The videos and practice sessions will take about 15 hours total to complete.
When does the course start and finish?
The course starts now and never ends! It is a completely self-paced online course - you decide when you start and when you finish.
Can I receive continuing education credits after completing this course?
This course does count as 8 AFAA CEC's and 0.8 NASM (CEU's).
What equipment do I need to complete this course?
I've kept it simple, so anyone can do this! All you need is one kettlebell, a 2x4, a hand towel, and a band.
What if I'm unhappy with the course? Can I receive a refund?
I'm confident that you'll love the Comprehensive Kettlebell Training and get tons of value from it. But if you're unsatisfied for any reason, simply contact me within the first 30 days of purchase, and I'll refund your full investment.
Take your kettlebell training to the next level.